March 13, 2020
Coronavirus & Lending Loop: How's Canadian Peer to Peer Lending In Times of Crisis?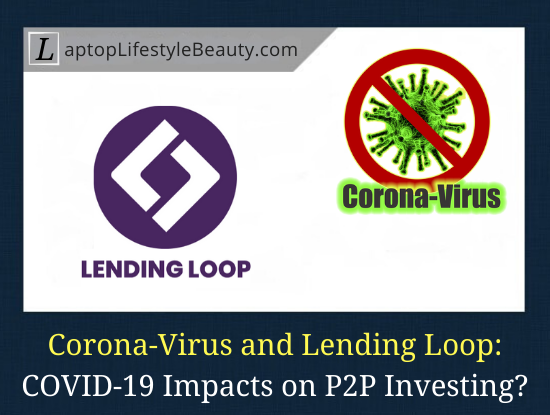 ---
It's no secret that there is a coronavirus pandemic going on, heavily affecting a lot of sectors in our lives and causing massive chaos in many countries. 
The tourism sector is especially vulnerable.
I mean the airlines, the hotels, restaurants, and those on the supply chain around the world are all feeling the devastating economic ripple. 
But what does it mean for Lending Loop (Canadian peer-to-peer marketplace) investors?
Specifically, what are the potential impacts of Coronavirus on their portfolios?
==> Get my $25 welcome bonus when you sign up.
(The bonus will automatically apply when you invest a total of $1,500 to businesses on the platform, however long it'll take. You can then reinvest or withdraw it – totally up to you.)
Anyway…
As a Lending Loop investor I wanted to know how this Coronavirus outbreak, also known as COVID-19, will impact the Canadian businesses and investing.
Apparently, I wasn't the only one.
---
Coronavirus Impacts on Lending Loop Portfolios
---
So…
After getting emails and calls from investors, Reza Jafer, the Head of Wealth Management of Lending Loop addressed this concern which I'd like to share with fellow Canadians here.
Here's what he said:
"Last week alone, fear of a global economic slowdown saw stock markets fall remarkably, erasing all of the 2020 gains and starting to reverse last year's tremendous upswing.
The chart below tracks the CBOE Volatility Index (VIX), which is a popular measure of the stock market's expectation of volatility.
Here you can visually see in the last week the spike up of investor fears and the panic that has overtaken the markets in 2020. 
This single concept of volatility is what keeps so many of the investors I speak with on a daily basis up at night.
I'm sure you've heard financial experts advise staying calm and focusing on your long-term goals, but we understand that it is hard in practicality and why we are firm advocates for diversifying with low correlation private market investments.
In an ever more globalized world, investing in small businesses can be a tremendous diversifier due to the hyper-localization of their customers and suppliers.
For example, a restaurant in Manitoba relies heavily on its customers within a 10 km radius for its business and is quite disconnected from global supply chains and far-reaching pandemics.
Of course, this can change if they cannot source ingredients or if their customers are too scared to visit their establishments but we will not see the stock price of this neighbourhood restaurant fall 10%+ because of perceived risks.
Rather, we can monitor their monthly/quarterly sales and see first hand if there is any cause for concern on missing payments. This isn't the case for all small businesses but it holds true for the overwhelming majority.
What does this mean for you?
Investing in private markets such as Lending Loop can significantly reduce the effects of perception, market chatter, sentiment, and panic selling from the equation as we only focus on important fundamentals and how your investments are actually performing, ie. are the businesses you have lent to paying you back?
Unlike public markets which are traditionally a zero-sum game, meaning if you are losing, someone else is profiting from your loss, alternative investments, like Lending Loop, can unify investors in substantially reducing correlation (this is a good thing!) to traditional stock and bond markets while offering enhanced return potential.
As you review your portfolio and decide what to do with your hard-earned cash, there is no better time to consider alternative investments like Lending Loop.
Many large money managers including Canadian pension funds typically allocate between 5-10% of their portfolios to alternative investments.
By investing in small businesses through Lending Loop, you are supporting the "real economy" which makes up approximately 70% of the private workforce and contributes almost 42% to the Canadian GDP."
Last thing:
If you are considering alternative investments or if you would like to review your Lending Loop investment strategy, feel free to reach out to LL team.
I personally dealt with them and they've been super helpful. 
==> Get my $25 welcome bonus when you sign up. 
(The bonus will automatically apply when you invest a total of $1,500 to businesses on the platform, however long it'll take. Also, what you do with the bonus is totally up to you.)
---
Coronavirus and Lending Loop: Thoughts?
---
Now…
I'd like to hear from YOU:
What are your thoughts on coronavirus and the Lending Loop portfolios? Are you a part of any other platforms? What do you see there?
---