January 3, 2020
My Swagbucks Review: A Great Way to Make Extra Cash Online in 2020 (With Proof)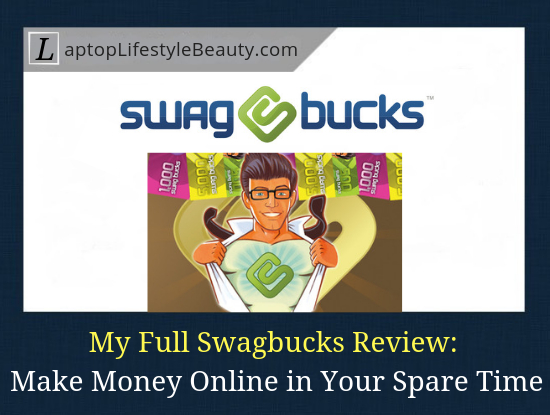 ---
How to make money online for free, without investment?
Here's my Swagbucks review for 2020! (With proof this program actually pays)
---
Look:
Recently I was browsing online forums and I couldn't help but notice how many people search for the best way to earn money online without any investment.
In some cases, people are just looking for easy ways to make money without willing to put any work.
However, in other cases, people really don't have the means to invest in programs or products that would help them succeed online.
Logically, they'd be looking for free options in the meantime.
Anyway…
It doesn't really matter which category you fall into – my purpose here is to provide information for Internet users who are desperate to find the answers.
Today I'll talk about one of my favourite ways to make money for free – Swagbucks.
Here's what to expect in this post:
My Swagbucks Review 2020: Make Money Online
---
So…
How does Swagbucks work and how much money can you make with it? Let's find out.
---
What Is Swagbucks and Why Do I Love It?
---
---
First things first, what is Swagbucks?
In a nutshell:
Swagbucks is a fun rewards program that gives you free gift cards and cash for the everyday things you already do online.
Now you may wonder…
Is Swagbucks legit or scam?
After having had experience with it for a couple of years, I can definitely confirm that Swagbucks is NOT a scam.
(Later in the post, I'll also mention what you shouldn't do if you don't want to get your account closed. Yep, this happened to me and I barely managed to recover it, along with my dollars in the account.)
Either way…
This program is awesome and here are the reasons why I love it:
it's 100% free to join,
it's easy to make money while doing the things that you already do online and,
through me, you can earn 300 SB bonus.

My experience:
I'll be honest, when I first joined SB, I didn't give it much credit and missed out on points I could accumulate during my period of inactivity.
But when I took a closer look at it and gave it a chance, with lazy participation I racked up to 2000+ Swag Bucks.
I even made it as my homepage and whenever I search for something online, I collect points. 
Like this: ↓
---

---
(All of this, without extra energy on my part!)
This is my favourite part of this program… Doing what I already do, without extra energy on my part, without any investment and still making extra money!
By the way:
I believe the Swagbucks search bar uses Yahoo, meaning that whenever you search for something, you will get the similar results as if you were to search in Yahoo itself.
(Sometimes it's similar to Google results too).
Which countries is Swagbucks available in?
At the moment, Swagbucks is available to people residing in the following countries:
United States of America

United Kingdom

Canada

Australia

Ireland

India
(Possibly in Germany too.)
---
Fun Ways To Earn With Swagbucks
---
---
So…
I already mentioned that I personally make most of my swag bucks by searching the web (and through the "Refer a Friend" method too).
Even though I consider this to be the quickest and easiest way to earn points with the program, without extra energy on your part, there are also other options available.
Let's discuss them.
---
1. Swagbucks rewards for completing the surveys.
---
If you have the free time to complete majority of those, then there is a huge potential there.
One survey can take from 10 to 30 minutes, and if you were to complete, let's say 60 surveys, you could earn at least 5,000 Swagbucks.
100 SB = $1.
You do the math ?
---
2. If you love shopping online, this will be your favorite.
---
Ladies, have fun making money while shopping!
It's a dream, isn't it!?
You can receive 2 Swag Bucks for every $1 you spend online.
Note that there are thousands of retailers offered by Swagbucks and so you have a wide range of options.
Example.
A while ago, I purchased something from Amazon Canada and voilà! 
I received an e-mail notifying me of cash back pending in the amount of 497 Swag bucks just because I was shopping on Amazon using Swagbucks platform. 
---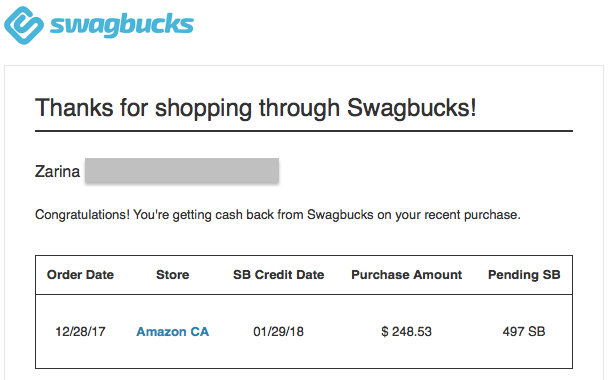 ---
(For what it's worth, I did get my well-deserved points after the payment got cleared).
So, if you're not using Amazon Prime and you don't need the product you're buying right away, then you may as well do the shopping through Swagbucks and have some cash back.
---
3. Daily polls is another way to make extra points at Swagbucks.
---
This is what I do almost every day.
I mean, it takes about 5 seconds to take the poll!
---
4. Enjoy watching trailers/playing games and earn swag bucks.
---
If you like playing games and/or watch videos, then this might be one be your favorites.
Point is… 
You CAN earn cash with Swagbucks and you can choose how exactly within their platform.
Once again, my personal favorite is browsing the web since I always do a lot of research as a full-time blogger and I don't want to distract myself on other things that I don't really care about (like playing games).
---
Does Swagbucks Actually Pay? (Proof)
---
Now…
If your first question was whether Swagbucks is a scam or not, then the second would likely be whether it actually pays its participants.
My experience? It definitely does. 
---

---
(I chose to get paid cash via PayPal, but you can also get gift cards from Amazon etc).
Remember, this is the absolutely FREE money that you get for things that you ALREADY do online.
Very cool.
Either way, you can try it out and see it for yourself by clicking here.
---
How to Get Started with Swagbucks (Plus Bonus)
---
---
If you liked the way this program works and would like to give it a try, here are the steps you should take to start making easy money on the side.
(Without paying anything.)
In fact, you will be awarded a bonus of 300 in Swag bucks! 
Step 1: Click here and create your account now. It literally takes a few seconds to sign-up at Swagbucks.
Step 2: After confirmation e-mail, I recommend setting Swagbucks as your home-page. This link will help you do that, whether you are using Chrome, Firefox, Safari or Internet Explorer.
Step 3: Use Swagbucks as you would with any other search engine and start making extra cash!
Easy, right?
Now…
How to Earn Your 300 SB Bonus?
---
Please read this part carefully because I want you to receive your bonus.
A few years ago, you could easily earn $5 for just signing up, however, this year in order to earn 300 in Swag bucks, you will have to be active and earn 300 SB in your first calendar month on Swagbucks.
In other words, if you sign up on Swagbucks any day of February, then you have until March 1st to earn your bonus.
Remember that!!

Earning 300 Swagbucks is VERY doable using the methods that I explained earlier. 
There is a catch though.
You are only eligible if you sign up through this link.
(I can't be held responsible if you sign up through another link that doesn't have the bonus option).
So…
Once you make 300 in Swagbucks during your first calendar month through web browsing, surveys, watching videos etc., you will receive your bonus on the first week of your second month on Swagbucks.
(Let me know if you have any further questions in the comments!)
---
Beware: Don't Try to Game the System
---
Remember in the beginning I mentioned that Swagbucks closed my account, along with my points earned?
I wanted to talk about this here, so you don't make the same mistake I did.
Basically, on my laptop I often use Safari but decided to make Swagbucks my homepage on Chrome browser. On that browser I also had Hola VPN extension installed and I totally forgot about it.
So…
One day, while I was in another country, I wanted to cash out $50 from Swagbucks. To confirm, they asked me for my address. And suddenly I get a notification that my account is closed.
No reason, no explanation.
After many, MANY emails to Swagbucks support I clarified the issue that I really do live in Canada with proofs of my address, that using a VPN was accidental etc.
Many weeks later, they finally restored my account. (Luckily, I was allowed to withdraw money too.)
Lesson to you:
In my case it was totally accidental but I want to warn you…
Don't try to game the system.
Only use Swagbucks if it's available in your country. Don't try any special techniques to earn more money, or anything else that goes against their terms and conditions.
My major tip is to redeem your points at the minimum they provide.
(And just in case withdraw the funds when you're physically in your own country.)
---
Swagbucks: The Easiest Way to Make Money Online
---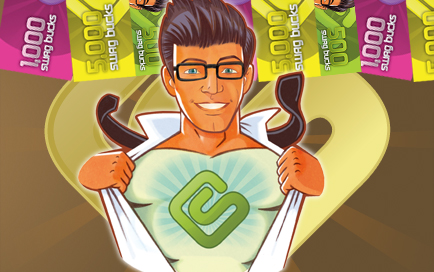 ---
With a whole bunch of scams on the Internet, this is a proven way to earn real money online for free, without paying anything.
In fact, YOU will be paid for things that you already do online on a daily basis.
What more can you ask for?
Take my word for it:
Swagbucks by far is the easiest and fun way to make money online, without investing much energy and time on your part!
==> That's why I highly recommend you join today.
Rest assured that it is a 100% scam-free program that has been proven over time.
The only thing is that you won't make thousands of dollars with passively.
(So, do set realistic expectations.)
But if you want more than just pocket-money and ready to take it to a whole new level, I have another platform I highly recommend.
---
Alternative Programs to Make More Money Online

---

---
Have you heard of the saying:
"Give a man a fish and you feed him for a day. Teach a man to fish and you feed him for a lifetime."
So…
If you are one of those who want to learn how to fish using the Internet and have consistent, GOOD income then, in my opinion, you should consider other options besides Swagbucks.
(And don't worry here I am talking about one with a free membership available).
I know for a fact that it will work for anyone:
college students

,

stay-at-home moms,

people with disabilities,

retirees,
…and so forth.
Even the high school kids can do it.
It's the very platform that helped me get started online  back in 2015 and it's called Wealthy Affiliate. It's so valuable that I'm still a member there! 
Here's a video of what to expect from this platform:

---
Swagbucks vs. Wealthy Affiliate
---
Let's compare Swagbucks vs. Wealthy Affiliate:
While I recommend BOTH programs, Swagbucks would best suit those who either don't want to build online businesses.
Or they don't have enough funds yet to pay for minimal investments like domain ($13.99-15.99/year) or hosting.
Wealthy Affiliate is a great platform for those who:
Need to get started online for $0

Want to understand how the money is made online

Interested in building profitable online businesses (websites)

Don't know the technical aspect of website-building (nor do you have to!)

Need a strong support behind to survive the bumps on the road to online success
Truth is…
Wealthy Affiliate is the #1 community membership site that helps building a thriving online business.
It provides this kind of "all-inclusive" experience to its members with state-of-the-art hosting, expert help, websites, live video classes and training tutorials. 
The training that is provided within the Wealthy Affiliate community is NOT a get rich quick scheme.
(And therefore, you WILL have to put in work to build profitable websites).
Instead:
It provides the proper guidance and the unlimited support that you need in order to succeed online. I've been with the community for over 3 years and I can personally vouch for it…
… because I personally saw results.
After having followed their training to the letter, I finally built a business that brought me 4 figures in 1 year. Here's my full progress/income report.
(And you CAN too!!)
---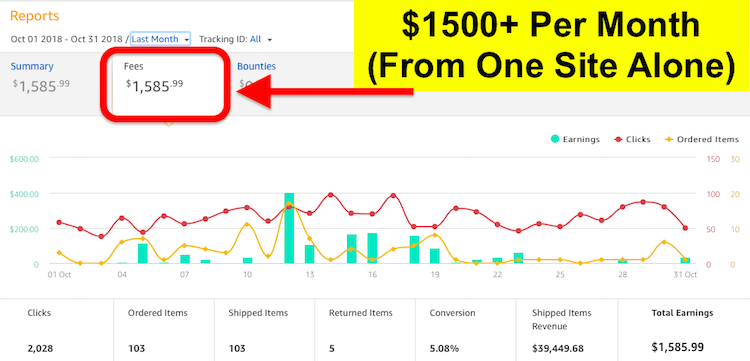 ---
The main reasons why I like Wealthy Affiliate:
1) Nice structure. I like my training to be spoon fed to me.
2) Live webinars every week.
3) Being able to connect with other like-minded people and not go through this process "in a vacuum".
The best part?
I am happy to tell you thatWealthy Affiliate offers a FREE membership too. 
no CC's,

no obligation,

no strings attached.
Pinky promise! 🙂 
You will also realize that building an online business is actually rewarding and fun!
So…
If you want to know how to use the Internet to make money and where to get proper guidance, then Wealthy Affiliate is the very training program I recommend without doubts.
As it has been mentioned before, this training centre offers a 100% FREE starter membership but what does it exactly allow you to do once inside?
Check out another video below done by a fellow Wealthy Affiliate member.
(Note that the interface has changed in May 2018 to improve user experience).
---
Getting Rolling With $0: 
==> If you want me to personally help you succeed with Wealthy Affiliate, then click here to join and receive my personal help and support.
---
And I promise you that I'll be available to you every step of the way.
Join the community, say hi to me on my profile @Zarina (and expect some bonuses from me).
Anyway, you've got one life and one chance to live your life the way you want it and fully explore it.
Don't waste your chance!
Check out Wealthy Affiliate if you want to learn about real, honest ways to make money online.
Did I mention that it's 100% free to test-drive an ENTIRE platform? 
Any questions or concerns?
Let me know in the comments below and I will gladly answer them.
---